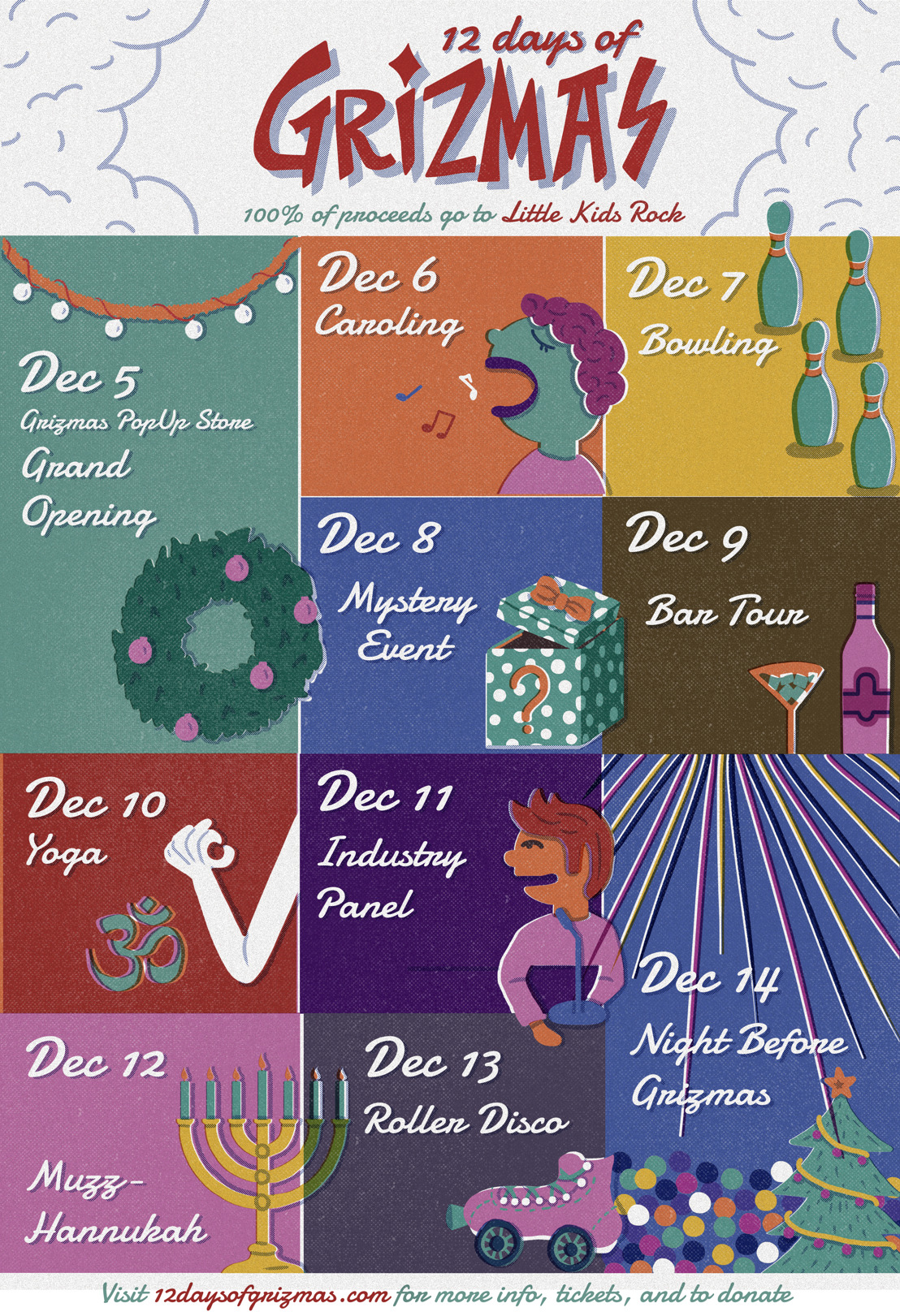 GRiZ Announces 12 Days of GRiZMAS
Detroit Charity Event Series In Support of Little Kids Rock, Raising Over $80,000 to Date || December 5th-16th in Downtown Detroit
Monday, November 20, 2017 — GRiZ today announces fourth annual 12 Days of GRiZMAS in Detroit December 5th through 16th - a twelve-day series of events with a focus on charity and giving back to the city that raised him.
12 Days of GRiZMAS offers a series of fundraising activities leading up to the fan favorite GRiZMAS celebration, to be held over two nights at the Detroit Masonic Temple. The first GRiZMAS show on December 15th will mark the return of the live band, which was debuted on night one of GRiZ's sold out two night run at Red Rocks Amphitheatre in September.
Music saved his life, but Detroit built him. Now GRiZ is doing all he can to give back to his community by helping to develop a support network for creative kids in a city ripe for artistic renaissance. By turning the benefit of this cause towards fostering the spirit of Detroit, GRiZ continues to set the intention towards further development in his own backyard. Growing up learning music within the progressive container of Detroit's music scene changed his life, so as a continuation of his roots, he is now working with a philanthropic cause aimed to help kids in the city flourish as he did. Little Kids Rock— which brings music education programs and instruments to underserved public schools nationwide—receives 100% of the proceeds from every charitable GRiZMAS event.
GRiZMAS has collectively raised over $80,000 for Little Kids Rock to date, and will be keeping that vision alive this year with multiple fan-involved activities throughout the 12 Day celebration including bowling, caroling, yoga, an industry panel, a GRiZMACON Bar Tour, and more. This year will also see the first ever GRiZMAS pop-up shop which will be the hub for all things GRiZMAS featuring a limited merch shop and much more with all proceeds benefitting Little Kids Rock.
It has been through international growth that GRiZ has risen as one of the new faces of Detroit's monumental electronic scene, and it is with this responsibility that he turns back towards the community that bred him to give back in his own unique way.
About Little Kids Rock
Little Kids Rock is a national nonprofit dedicated to transforming lives by restoring, expanding, and innovating music education in our schools. As the leader in culturally-responsive, inclusive music education, the organization partners with public school districts to build music programs as diverse as the kids being served. Little Kids Rock trains teachers to run its innovative Modern Band curriculum, and donates accompanying instruments and resources as necessary to teach popular music in a way that empowers students to experience instant achievement. What began as a single after-school guitar class has since exploded into a national movement that brings free, weekly music lessons to over 320,000 public school children annually through the efforts of more than 2,000 teachers in 200 school districts nationwide. More info at www.littlekidsrock.org.
Link to FB announce:
https://www.facebook.com/mynameisGRiZ/photos/a.176431399075518.49125.173346049384053/1705440886174554/?type=3&theater
Donate at: http://12daysofgrizmas.com/
GRiZMAS CHARITABLE EVENTS SCHEDULE
Dec 5 – GRiZMAS Pop Up Shop Grand Opening
Dec 6 – Caroling on The Q and Campus Martius
Dec 7 – Bowling Night
Dec 8 – Mystery TBD Event
Dec 9 – GRiZMACON Bar Tour
Dec 10 – Yoga @ The Fisher Building Lobby
Dec 11 – Industry Panel @ Assemble Sound
Dec 12 – Muzz-Hannukah @ The Masonic Temple
Dec 13 – Roller Disco Night
CONCERTS:
Dec 14 – Night Before GRiZMAS @ Royal Oak Music Theatre
Dec 15 – GRiZ Live Band @ Masonic Temple
Dec 16 – GRiZ @ Masonic Temple