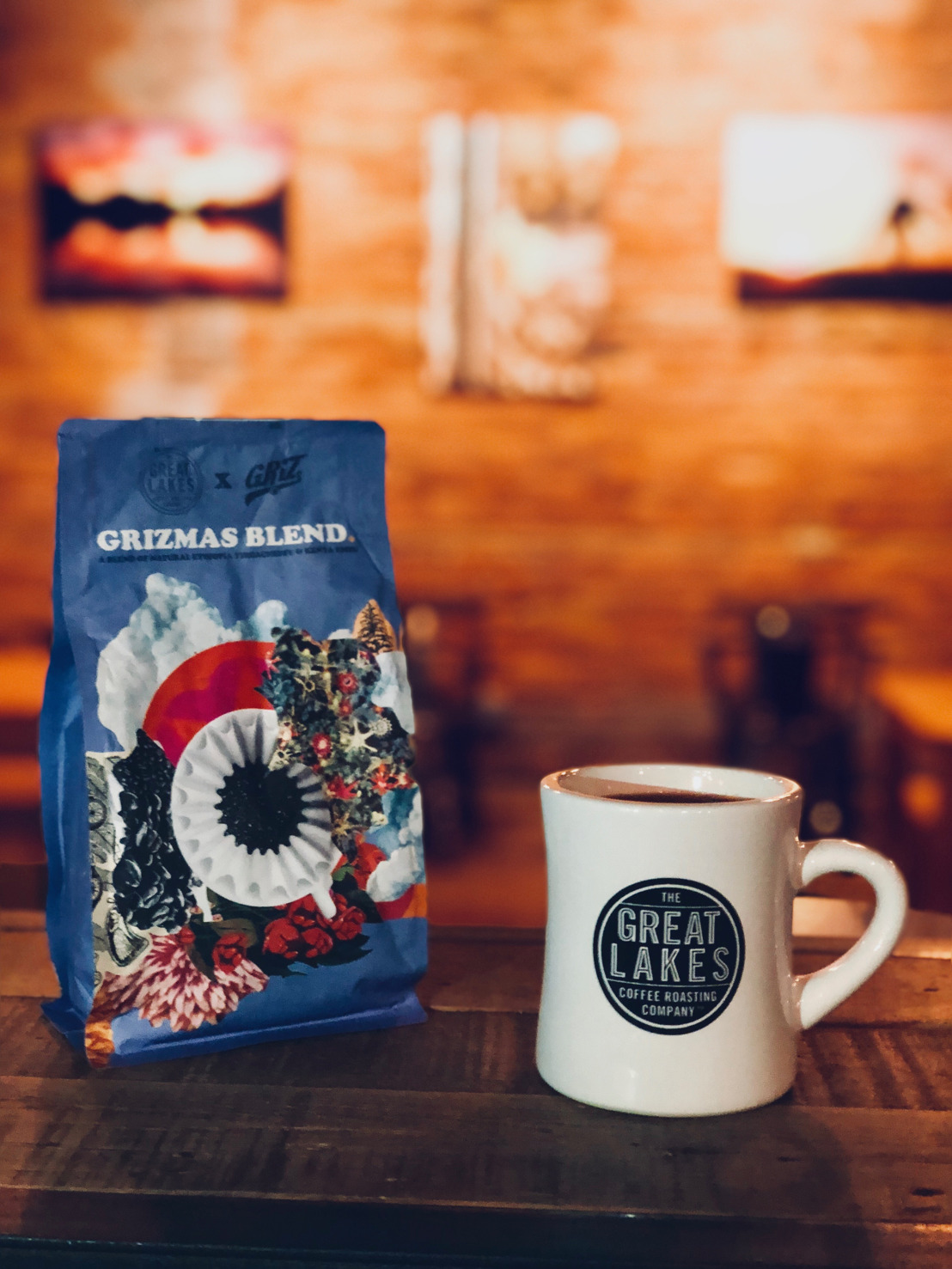 GRiZ Launches GRiZMAS Coffee Blend In Support of Detroit Youth Music Education
100% OF PROCEEDS GO TO MUSIC EDUCATION FOR DETROIT'S YOUTH
Thursday, November 29, 2018 — Available now via mail order and in shops
in partnership with The Great Lakes Coffee Roasting Co
Electronic music producer and multi-instrumentalist GRiZ unveils his own GRiZMAS coffee blend today in partnership with The Great Lakes Coffee Roasting Company. It's a great release for a great cause, with 100% of proceeds being donated to youth music education in Grant's hometown of Detroit. The blend arrives in line with the event series by the same name, 12 Days of GRiZMAS, which raises money for the same community-driven goal.
The GRiZMAS blend whole bean Coffee is as vivacious and boisterous as the artist who inspired it. The blend is comprised of two African coffees hand selected by GRiZ which are quintessential for their origins. The washed Kenya Embu component comes from the red volcanic soil east of Mount Kenya, while the natural Ethiopian beans sets the tempo with rich flavors of concord grape and praline. These are both outstanding single origin options, which together create an entrancing harmony for early morning and late night enjoyment alike.
This blend will appeal to coffee fanatics of any level, whether seasoned baristas, home roasters, or casual drinkers. Full of energy and funk, the GRiZMAS Blend surely honors its namesake.
Those who keep up with GRiZ know that he can never contain his art to one medium and is forever on the hunt for his newest pursuit. From his signature clothing, beer, cannabis, and now coffee, Grant is dedicated to sharing his values and passions with fans worldwide.
The coffee blend comes weeks ahead of the newly announced fifth anniversary of 12 Days of GRiZMAS, and just two days after the announcement of Grant's partnership with It Gets Better, a non-profit dedicated to empowering and uplifting young LGBTQ voices across America. In celebration of #GivingTuesday, and in partnership with Facebook and PayPal, GRiZ raised over $5,900 in just a few days to donate to the fundraiser.
With a multitude of talents at his disposal and a pure ethos of community betterment at his core, GRiZ continues his path towards being a global icon of positivity. Show Love, Spread Love.
Watch Facebook Video Announce HERE
Order GRiZMAS Blend: http://www.mynameisgriz.com/shop/great-lakes-grizmas-blend-coffee
Donate to It Gets Better: https://www.facebook.com/donate/367626753811498/2163446810373957/
Buy Tickets to GRiZMAS: http://12daysofgrizmas.com/